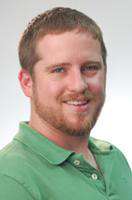 Contact Information
Office: MEYR 464
Phone: 410-455-2531
Senior Lecturer
Ph.D. University of California, Irvine 2008; M.S. University of California, Irvine 2006
Professional Interests
I am interested in developing new lab experiments for the undergraduate curriculum and incorporating inquiry-based instruction into the chemistry lab and the lecture hall. I also participate in chemistry outreach and demonstrations for primary school students, and direct professional development courses for high school chemistry teachers.
Selected Publications
S.A. Mang, D.K. Henricksen, A.P. Bateman, M.P.S. Andersen, D.R. Blake, and S.A. Nizkorodov.   'Contribution of Carbonyl Photochemistry to Aging of Atmospheric Secondary Organic Aerosol', The Journal of Physical Chemistry A (2008).  In Press.
S.A. Mang, M.L. Walser, X. Pan, J.-H. Xing, A.P. Bateman, J.S. Underwood, A.L. Gomez, J. Park, and S.A. Nizkorodov.  'Photochemistry of Secondary Organic Aerosol Formed from Oxidation of Monoterpenes' inAtmospheric Aerosols: Characterization, Chemistry, and Modeling (ACS Symposium Series)
Valsaraj, K. T., Kommalapati, R. R., Eds., (2008).  In Press.
S.A. Mang, M.L. Walser, J.M. Laux, and S.A. Nizkorodov.  'Measurement of ozone emission and particle removal rates from portable air purifiers' Journal of Chemical Education (2008).  Submitted.
Courses Taught
CHEM 101: Principles of Chemistry I
CHEM 102: Principles of Chemistry II
CHEM 102L: Introductory Chemistry Lab I
CHEM 300: Analytical Chemistry
CHEM 311L: Advanced Laboratory I
CHEM 312L: Advanced Laboratory II
CHEM 461: Advanced Instrumental Methods of Analysis
CHEM 420: Computer Applications in Chemistry