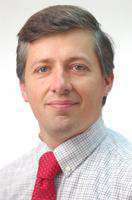 Contact Information
Office: MEYR 475B
Phone: 410-455-2539
Assistant Professor
Temple University                            Chemistry            B.S., 2001
Montana State University         Inorganic Chemistry    Ph.D., 2006
Massachusetts Institute of Technology        Postdoc        2008-2012
Professional Interests
The emphasis of research in the Allen Lab lives at the interface between Chemistry, Biology, and Inorganic Materials. We use M13 Bacteriophage Display to identify polypeptides that bind to unique functional materials, then heterologously express those peptides to impart new functionality to inorganic particles.

In this schematic multifunctional peptides bind together electroactive materials to create better batteries.
Events:
Former lab member William Dean awarded the NSF Graduate Research Fellowship while in graduate school at University of Michigan
Courses Taught
Chem 490/684 Bio and Bio-Inspired Materials: This class focuses on learning from nature to improve the properties of materials.
Chem 405 Inorganic chemistry: A physical understanding of bonding, reactivity, and properties of inorganic molecules.
Chem 405L Inorganic Chemistry Laboratory: An advanced laboratory course specializing in the synthesis of inorganic materials and molecules with an entrepreneurial focus.
Selected Publications
Barannikova, E, Riley, SJ, Allen, MA, "Bioprospecting Solid Binding Polypeptides for Lithium Ion Cathode Materials", BioInterphases, Submitted
Winton, AJ, Allen, MA, "Identification and Evaluation of Lithium Titanate Oxide Binding Polypeptide", Chemical Communications, 2019, Submitted
Winton, AJ, Baptiste, JL, Allen, MA, "A versatile expression vector for the growth and amplification of unmodified phage display polypeptides", Protein Expression and Purification, 2018, 149, 31-36
Allen, MA, Barannikova, E, Riley, S, Winton, A, "Naturally Synthetic: Using Biology to Improve Technology", 2015, Biophysical Journal, 108, 634A
Hess, GT, Cragnolini, JJ, Popp, MW, Allen, MA, Dougan, SK, Spooner, E, Ploegh, HL, Belcher, AM, Guimaraes, CP, "M13 Bacteriophage Display Framework that Allows Sortase-Mediated Modification of Surface-Accessible Phage Proteins", Bioconjugate Chemistry, 2012, 23, 1478-1487
Nuraje, N. Dang, X., Qi, J., Allen, MA, Belcher, AM, "Biotemplated Synthesis of Perovskite Nanomaterials for Solar Energy Conversion" Advanced Materials, 2012, 24, 2885-2889
Oh, D, Dang, XN, Yi, HJ, Allen, MA, Xu, K, Lee, YJ, Belcher, AM, "Graphene Sheets Stabilized on Genetically Engineered M13 Viral Templates as Conducting Frameworks for Hybrid Energy-Storage Materials, Small, 2012, 8, 1006-1011
Schweitzer, MH, Suo, Z, Avci, R, Asara, JM, Allen, MA, Arce, FT, Horner, JR, "Analyses of soft tissue from Tyrannosaurus rex suggest the presence of protein" Science, 2007, 316, 277-279
Uchida, M, Klem, MT, Allen, M, Suci, P, Flenniken, M, Gillitzer, E, Varpness, Z, Young, M, Douglas, T "Biological Containers: Protein Cages as Multifunctional Nano-Platforms" Advanced Materials, 2007, 19, 1025-1042
Allen, M, Bulte, JWM, Liepold, L, Basu, G, Zywicke, HA, Frank, JA, Young, M, Douglas, T, "Paramagnetic viral nanoparticles as potential high-relaxivity magnetic resonance contrast agents" Magnetic Resonance in Medicine, 2005, 54, 807-812.
Allen, M, Willits, D, Young, M, Douglas, T, "Constrained synthesis of cobalt oxide nanomaterials in the 12-subunit protein cage from Listeria innocua" Inorganic Chemistry, 2003, 42, 6300-6305.
Allen, M, Willits, D, Mosolf, J, Young, M, Douglas, T, "Protein cage constrained synthesis of ferrimagnetic iron oxide nanoparticles" Advanced Materials, 2002, 14, 1562-1565.