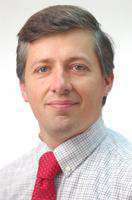 Contact Information
Office: MEYR 475B
Phone: 410-455-2539
Assistant Professor
Post-Doctoral MIT 2012; Ph.D. Montana State University 2006; B.S. Temple University 2001
Professional Interests
Primary Overview
The emphasis of my research lives at the interface between chemistry, biology, and materials.  My lab uses biological molecules (peptides) to improve the properties of materials.  Using a technique called phage display we are looking for peptides that have high binding affinity for diverse materials. We will combine these peptides in order to improve the functionality and applications of these materials.

In this schematic a peptide is being used to join conducting materials with electroactive battery materials in order to prepare higher power and more efficient batteries.
Specific immediate focus
As I develop broad based research projects my first goal is to use biology to improve the properties of lithium ion batteries.  In this project I will isolate peptides that have a strong binding affinity to electroactive materials and combine them with a peptide sequence that has high affinity to conducting nanowires like carbon nanotubes.  This will result in a hybrid battery electrode that has improved power and cyclibility over commercially available batteries.
Meeting/Events
Current News in the Group
Recent impact of the Boeing 787 grounding by the FAA: http://arstechnica.com/business/2013/01/boeings-dreamliner-batteries-inherently-unsafe-and-yours-may-be-too/
Courses Taught
CHEM 684: Special Topics in Chemistry – Bio and Bio-Inspired Materials: This class focuses on learning from nature in order to improve the properties of materials.  The course is in three parts: biomineralization, bio-inspired materials, finally biomaterials.