Chris Geddes honored at inventors luncheon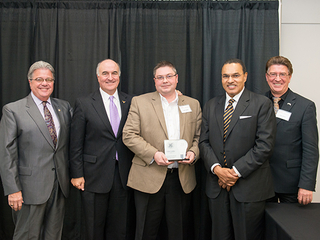 On Monday 30th November, Professor Geddes was honored at a UMBC technology Luncheon, for technology innovation and development at UMBC. During his tenure at UMBC and within USM, Dr Geddes has published more than 250 peer-reviewed papers, 30 books and he currently holds in excess of 100 world wide patents. Dr Geddes has founded 3 companies, with over  300 products available today, with an enterprise value in excess of $100 million dollars. Dr Geddes has recently just received a new TEDCO technology development award, with a view to spinning out a new company on the technology in 2016.
The award for technology innovation was presented by President Freeman Hrbowski, USM Chancellor Bob Caret, Maryland Commerce secretary Mike Gill, and UMBC's VP for research, Dr Karl Steiner.