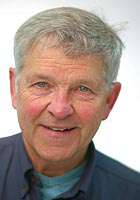 Contact Information
Office: MEYR 243A
Phone: 410-455-2506
Professor
Ph.D. Univ. of California, Berkeley 1965; B.A. Cornell University 1961
Professional Interests
High resolution NMR spectroscopy and computer molecular modeling are used to explore the conformation and dynamics of complex carbohydrates of the cell surface.  Techniques such as scalar and dipolar coupling and nuclear Overhauser effects are applied to study glycoprotein oligosaccharides and the antigenic polysaccharides of pathogenic bacteria.
Selected Publications
For a list of publications and links to pdf files of most recent papers, click
this link
.
Honors and Awards
Associate Editor, Biopolymers
John Wiley Press
1993
Funding
Population Biology of Surface Polysaccharides in Cholera' NIH GM-60791
$38,000
NIH- UMAB
2003
Conformation and Dynamics of Complex Polysaccharides
$300,000
NSF
2002-2007
Meeting/Events
FASEB Summer Research Conference: Microbial Polysaccharides
Tucson, AZ June 17-22, 1006.  Invited lecture: Engineering the cell wall receptor polysaccharides of Viridans streptococci and their structure by NMR spectroscopy
Courses Taught
CHEM 102: Principles of Chemistry II
Research Description
NMR spectroscopy, computer molecular modeling, bacterial polysaccharide isolation, chromatography, HPLC.