Welcome! With 29 faculty whose expertise span the major sub-disciplines of chemistry, over 60 Ph.D. and MS students and nearly 400 undergraduate majors, the UMBC Department of Chemistry and Biochemistry is a relatively intimate community dedicated to premiere education from the BA/BS to Ph.D. level, and to internationally recognized research at the bleeding edges of "the Central Science". This is accomplished by a highly motivated and research active faculty who direct groups in experimental and computational approaches that employ state of the art technologies in a facility, the Robert and Jane Meyerhoff Chemistry Building, that was fully renovated and re-dedicated in 2005.
Our campus is located in suburban Baltimore, in the heart of the Mid-Atlantic region, along the Baltimore-Washington corridor, and thus benefits from close proximity to one of the world's greatest concentrations of scientific research activity. Nearby NIH and NIST are the loci of a number of faculty research collaborations and many faculty interact closely with corporate, high-tech and the greater scientific community in the vicinity.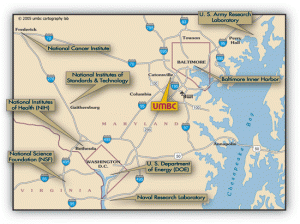 An outstanding quality of life in this region complements our dedication to excellence. Surrounded by very affordable housing, the UMBC area is culturally vibrant, being close to the night-life of both cities. We are 35 minutes by car from National and State Forests, 50 minutes from skiing or the Chesapeake Bay and a few hours from the Atlantic Ocean. The Bay area is renowned for the variety and quality of its seafood, the most familiar delicacy being the blue-fin crab. The campus and surrounding area is an ethnically diverse community, and as such, is a welcoming area to all residents and concomitantly boasts a varied selection of cuisines in the local restaurants.
Whether you are already a member of our Department, or have an interest in becoming one, we hope you will browse this site and find it informative and even entertaining!