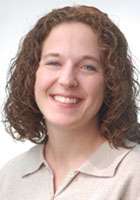 Contact Information
Office: MEYR 112
Phone: 410-455-3085
Senior Lecturer
Ph.D. Duquesne University 2005; B.A. Thiel College 1999
Courses Taught
CHEM 101: Principles of Chemistry I
CHEM 102: Principles of Chemistry II
Publications
Ott LE, Carpenter TS, Hamilton DS, LaCourse WR (2018).  Discovery Learning: Development of a Unique Active Learning Environment for Introductory Chemistry.  Journal of the Scholarship of Teaching and Learning 18: 161-180
Hodges LC, Anderson EC, Carpenter TS, Cui L, Feeser EA, Gierasch TM (2017).  Using Clickers for Deliberate Practice in Five Large Science Courses.  The Journal of College Science Teaching 47: 22-28
Hodges, L.C., Anderson, E.C., Carpenter, T.S., Cui, L., Gierasch, T.M., Leupen, S., Nanes, K.M., & Wagner, C.R. (2015). Using reading quizzes in STEM classes—the what, why, and how. Journal of College Science Teaching, 45(1), 49-55.