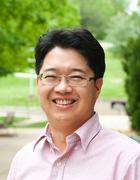 Contact Information
Office: MEYR 462A
Phone: 410-455-2514
Associate Professor
Post-Doctoral Pennsylvania State University 2011; Ph.D. University of Minnesota – Twin Cities 2005; B.S. Yonsei University, Seoul, Korea 1997
Professional Interests
Cellular Biochemistry of Metabolic Multienzyme Complexes in Living Cells
The broad objective of my laboratory is to contribute to our understanding of how sequential metabolic enzymes are organized in living cells and how such metabolic organizations are spatially and/or temporarily regulated in response to cellular signals relevant to human diseases; including but not limited to cancer, diabetes and obesity.
Since the concept of the metabolic complex was conceived in 1970s, the discovery of the "purinosome", a reversible metabolic macromolecular complex in human cells [S.An et al. Science (2008) 320, 103], stands as the first example of transient metabolic complexes identified in living cells. This discovery sets the stage for an extraordinary opportunity to explore the spatial and temporal advantages to the cell in assembling and disassembling this cluster of proteins. My laboratory is highly motivated to further explore the purinosome with strong emphasis on signaling pathways. In addition, we have recently discovered another metabolic complex that is composed of rate-limiting enzymes in glucose metabolism. Collectively, the research projects in my laboratory have potentials to invoke a paradigm shift in our thinking about the operationof cellular biosynthetic pathways, and outcomes will be beneficial for human health.
Selected Publications
Peer-reviewed Publications
Miji Jeon, Krishna M. Chauhan, Gregory L. Szeto, Minjoung Kyoung, and Songon An* "Subcellular regulation of glucose metabolism through multienzyme glucosome assemblies by EGF-ERK1/2 signaling pathways" J. Biol. Chem. (2022) 298, 101675
Songon An*, Prakash Parajuli, Erin L. Kennedy, and Minjoung Kyoung* "Multi-dimensional fluorescence live-cell imaging for glucosome dynamics in living human cells" Methods in Molecular Biology (2022) 2487, 15-26 (Accepted on May 15, 2021, Published Online on June 11, 2022) doi: 10.1007/978-1-0716-2269-8_2
Songon An*, Miji Jeon, Erin L. Kennedy, and Minjoung Kyoung* "Phase-Separated Condensates of Metabolic Complexes in Living Cells: Purinosome and Glucosome" Methods in Enzymology (2019) 628, 1-17 https://doi.org/10.1016/bs.mie.2019.06.013
Danielle L. Schmitt, Anand Sundaram, Miji Jeon, Bao Tran Luu, and Songon An* "Spatial Alterations of de novo Purine Biosynthetic Enzymes by Akt-independent PDK1 Signaling Pathways" PLoS One (2018) 13, e0195989.
Miji Jeon, Hye-Won Kang*, and Songon An* "A Mathematical Model of Enzyme Clustering in Glucose Metabolism" Scientific Reports (2018) 8, 2696.
Danielle L. Schmitt and Songon An* "Spatial Organization of Metabolic Enzyme Complexes in Cells" Biochemistry (2017) 56, 3184-3196.
Casey L. Kohnhorst, Danielle L. Schmitt, Anand Sundaram, and Songon An "Subcellular Functions of Proteins under Fluorescence Single-cell Microscopy" Biochimica et Biophysica Acta – Proteins and Proteomics (Special Issue of Physilogical Enzymology) (2016) 1864, 77-84
Minjoung Kyoung, Sarah J. Russell, Casey L. Kohnhorst, Nopondo N. Esemoto, and Songon An "Dynamic architecture of the purinosome involved in human de novo purine biosynthesis" Biochemistry (2015) 54, 870-880
Florence Verrier*, Songon An*, Ann M. Ferrie, Haiyan Sun, Minjoung Kyoung, Huayun Deng, Ye Fang and Stephen J. Benkovic "GPCR regulates the assembly of a multienzyme complex for purine biosynthesis" Nature Chemical Biology (2011) 7, 909-915 *Co-first authors
Songon An,Yijun Deng,John W. Tomsho, Minjoung Kyoung, and Stephen J. Benkovic "Microtubule-assisted Mechanism for Functional Metabolic Macromolecular Complex Formation" Proceedings of the National Academy of Sciences USA (2010) 107, 12872-12876
Songon An*, Ravindra Kumar, Erin D. Sheets*, and Stephen J. Benkovic* "Reversible Compartmentalization of de novo Purine Biosynthetic Complexes in Living Cells"Science (2008) 320, 103-106 *Co-corresponding authors
Patents
Florence Verrier, Songon An, YeFang, and Stephen J. Benkovic "Methods to identify targets and molecules regulating purinosomes and their uses" (2010)
Courses Taught
CHEM 438: Comprehensive Biochemistry II
CHEM 490/684: Special Topics in Chemistry – Cellular Biochemistry
CHEM 490/684: Special Topics in Chemistry – Molecular Imaging for Drug Discovery
CHEM 690: Chemistry Seminar
CHEM 713: Biochemistry/Chemistry Seminar
MBIC 709: Advanced Biochemistry (Graduate Program in Life Sciences) at UMB