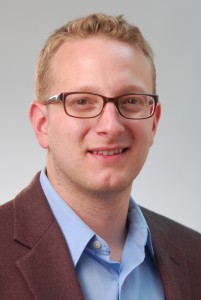 Contact Information
Office: MEYR 462B
Phone: 410-455-3053
White CV
Associate Professor
Post-Doctoral University of California Santa Barbara 2011; Ph.D. University of Utah 2007; B.A. University of North Carolina 2003
Professional Interests
My research and teaching interests lie at the intersection of nanoscience, electrochemistry and the biological interface. The research interests in our group focus on the development of new (bio)analytical methods to probe chemical and biological systems with unprecedented spatial and temporal resolutions afforded by working at the nanoscale. The scope of this research is quite broad, ranging from studies of fundamental chemical and biological phenomena to the development of applied sensor technologies. As such, students in the group can expect to gain valuable interdisciplinary laboratory experience. Please visit the links to learn more about the lab's cutting edge research.
Selected Publications
2016
C. Macazo and R. J. White, "Bio-Inspired Protein Channel-Based Scanning Ion Conductance Microscopy (Bio-SICM) for Simultaneous Conductance and Specific Molecular Imaging," J. Am. Chem. Soc., 2016, In Press. Click here to learn more.
2015
R. Schoukroun-Barnes, E. P. Glaser*, and Ryan J. White, "Heterogenous Electrochemical, Aptamer-Based Sensor Surfaces for Controlled Sensor Response," Langmuir 2015, 31, 6563–6569.Click here to learn more. 
R. Schoukroun-Barnes and R. J. White, "Rationally Designing Aptamer Sequences with Reduced Affinity for Controlled Sensor Performance," Sensors 2015, 15, 7754-7767.Special Issue: Smart Materials for Switchable Sensors. Click here to learn more.
C. Macazo, R. L. Karpel, and R. J. White, "Monitoring Cooperative Binding using Electrochemical DNA-Based Sensors,"Langmuir. 2015, 31, 868-875. Click here to learn more.
2014
2013
S. Ferguson, D. A. Hoggarth, D. Maliniak, K. Ploense, R. J. White, N. Woodward, K. Hsieh, A. J. Bonham, M. Eisenstein, T. E. Kippin, K. W. Plaxco, and H. T. Soh, "Real-Time, Aptamer-Based Tracking of Circulating Therapeutic Agents in Living Animals," Sci. Transl. Med., 2013, 5, 213ra165. Click here to learn more.
C. Huang and R. J. White, "Random Walk on a Leash: A Simple Single Molecule Diffusion Model for Surface-Tethered Redox Molecules with Flexible Linkers," J. Am. Chem. Soc. 2013, 135, 12808-12817. Click here to learn more.
Schoukroun-Barnes, S. Wagan, J. Liu, J.B. Leach, and R. J. White, "Biocompatible Hydrogel Membranes for the Protection of RNA Aptamer-Based Electrochemical Sensors," Proc. SPIE8719, 2013, Smart Biomedical and Physiological Sensor Technology X, 87190I. Click here to learn more.
Honors and Awards
Royce W. Murray Young Investigator Award
Society for Electroanalytical Chemistry
2016
NIH-National Research Service Award Postdoctoral Fellowship
National Institutes of Health
2009-2011
Chair, Gordon Research Seminar in Electrochemistry
Gordon Research Conferences
2010
Santa Barbara Foundation Tri-Counties Bloodbank Postdoctoral Fellowship
The Santa Barbara Foundation
2008-2009
The Cal Giddings Graduate Fellowship in Chemistry
The University of Utah
2003
Research Description
To learn more about the exciting research projects in the White Group, visit our website at: http://whitegroup.umbc.edu/